Affordable Waterfront Resort Living
News & Events
Best Wineries near Captain's Cove
Aug 22, 2016
In a blog post last month, we highlighted some of the best breweries near Captain's Cove. Now, check out one of these great wineries and vineyards!
Chatham Vineyards on Church Creek
9232 Chatham Rd | Machipongo, VA 23405
Tasting Room Hours:
Open Daily 10 am - 5 pm April - December
Closed Tuesdays & Wednesdays January - March
Winning wine: 2014 Church Creek Vintner's Blend -- "A classic Bordeaux-style blend with a Merlot base that brings elegant fruit flavors, Cabernet Franc that contributes complexity and herbal notes, and Petit Verdot for ripeness, deep color and fresh acidity. This wine was barrel-aged for 12 months in 30% new French oak."
Bordeleau Vineyards & Winery
3155 Noble Farm Rd | Eden, Maryland 21822
Tasting Room Hours:
Wednesday-Saturday 12 - 6 pm
Sunday 12:30-6pm
Monday and Tuesday: by appointment only (min. 8 people)
Winning wine: 2 Meritage -- "Enjoy this classic Bordeaux Style blend made from wines selected from our barrels with the highest scores. This blend was aged in a combination of French and American oak barrels for more than 24 months. This wine exhibits layers of black cherry, black raspberry and currants gently melded with light oak tannins. Our blend consists of 50% Merlot, 30% Cabernet Sauvignon, 10% Malbec and 10% Petit Verdot."
Costa Ventosa
9031 Whaleyville Rd | Whaleyville, MD 21872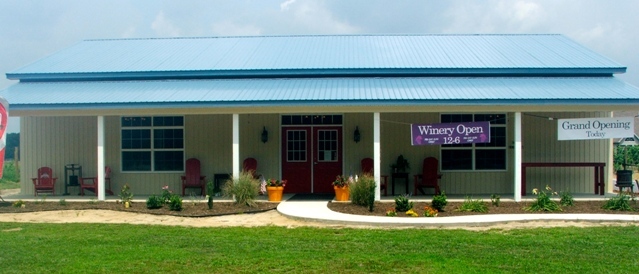 Tasting Room Hours:
Friday-Sunday from 12-6 pm
Winning wine: Assawoman Bay Chardonnay -- "This clear, pale straw colored Chardonnay is reminiscent of the smells of country life: apple, spiced apple, with hints of dried herb, toast and linden. Think of plucking a big green apple and savoring the taste; you'll find this crispness in the wine, along with citrus and apricot. Grapefruit and lemon are on the finish."
Layton's Chance Winery
4225 New Bridge Rd | Vienna, MD 21869
Tasting room hours:
Monday - Thursday: 11 am - 5 pm
Friday & Saturday: 11 am - 6 pm
Sunday: 12 - 5 pm
Winning wine: Lazy Day White -- "Traminette grape similar to a sweet Riesling. Honeysuckly, jasmine, apricot."